Overview
Literacy in action since 1994.
Summer Scholars is an award-winning, year-round extended learning program partnering with 20 Denver elementary schools to provide high-quality reading, language and math tutoring, enrichment and family literacy to 2000 children and their families each year.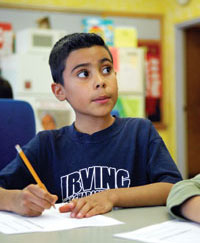 Provided after school and during the summer break, Summer Scholars operates three programs to meet the goals of improving student achievement, youth assets and family educational opportunities; the Student Achievement, Youth Enrichment, and Family Education programs. All of Summer Scholars' programs are driven by ongoing evaluation and feature research-based curricula, family involvement, and low student-to-staff ratios.
Summer Scholars' programs produce strong outcomes for participants. Students and parents overwhelmingly agree the students are better equipped to be successful at school, and the results of pre and post achievement results confirm these impressions.
Summer Scholars' participants are mostly low-income elementary students, ages 5-11. Last year, 53% of the participants were Latino, 34% African-American, 7% Anglo, and 6% are of other or mixed ethnicity. 84% of students were eligible for the federal free lunch program, which is a measure of low family income. Typically, 49% of the students are boys, 51% girls.