Student Achievement
At Summer Scholars, learning is literally year-round.
Summer Scholars seeks to bring elementary aged students up to grade level in reading, math and/or English language acquisition. Working in partnership with 20 Denver Public Schools, Summer Scholars offers intensive tutoring options year round. Because results from assessment drive instruction, our programs feature a low student to staff ratio and best practices for accelerating learning for struggling students.
Summer Scholars' Student Achievement programs are effective at improving students' results, with 22% -25% of students gaining grade level skills from participation. Most students participate in literacy instruction, and new in 2009, math tutoring. With more than 30% of students learning English as a second language, Summer Scholars' programs also play a vital role in English language development.
Summer Student Achievement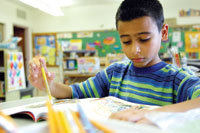 For six weeks in the summer, students participate in three hours of daily reading intervention instruction at partner schools. Students rotate through small group activities designed to teach and reinforce reading skills and instructional techniques are tailored to the needs of each grade level and child. Teachers utilize research methods to intervene in each child's reading challenges and all of the instructional staff participate in extensive academic instruction strategy training before and during the summer program.
After School Student Achievement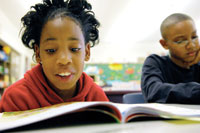 Summer Scholars offers after school tutoring at partner school sites throughout the academic school year. The after school program includes two hours of reading or math tutoring twice each week for every child. Each tutoring session includes a snack and three instructional components: 1) computer-based instruction, 2) small group tutoring, that includes teacher-led, small group instruction to enhance reading or math fluency and 3) cognitive development activities from the research-based Structures of the Intellect curriculum including physical and workbook activities designed to build cognitive strength and abstract thinking skills.