Youth Enrichment
Active Minds Need Active Bodies
Summer Scholars integrates a wide variety of educational recreation activities with its Student Achievement programs provided after school and in the summer. Summer Scholars designed the Youth Enrichment programs to improve students' overall assets and resiliency, positively impacting their quality of life and reinforcing academic learning. Assets refer to the relationships, opportunities and personal qualities that young people need in order to avoid risks and to thrive. Resiliency refers to the ability to overcome adversity.
Summer Youth Enrichment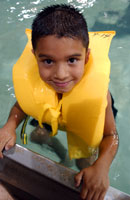 In the summer, the afternoon Youth Enrichment program, in conjunction with Denver Parks and Recreation, follows the Student Achievement program. Students participate in arts and crafts, sports, math and special activities like dance, music and swimming lessons. In recent years, students at every school site have also studied and acted to reduce hunger, conducting a canned food drive and raising funds to purchase farm animals through Heifer International.
After School Youth Enrichment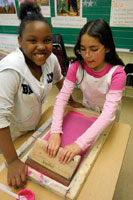 During the school year, Summer Scholars combines the Youth Enrichment program with the Student Achievement program at selected schools. This includes homework help and special activities like First Tee Golf, ski trips, service learning projects and field trips to the Denver Museum of Nature and Science.